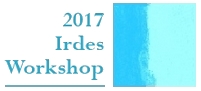 3rd IRDES Workshop on Applied Health Economics
and Policy Evaluation
Paris, June 22nd-23rd, 2017

ahepe@irdes.fr


www.irdes.fr/ahepe
Call for papers
We are pleased to announce the third IRDES Workshop on Applied Health Economics and Policy Evaluation, to take place in Paris on June 22nd-23rd 2017. The workshop is organized by IRDES, Institute for Research and Information in Health Economics, Paris, France, with the Chaire Santé Dauphine.
Submission and selection of papers
SUBMISSION CLOSED
Papers will be selected by the scientific committee on the basis of a full or advanced draft written in English. Papers should include empirical material and only unpublished papers at the time of the submission will be accepted. The submission should contain author's name(s) and affiliation(s), a structured abstract and keywords (up to five).
About 16 papers will be selected. Each paper will be allocated 20 minutes for presentation and 20 minutes for discussion (introduced by a participant or a member of the scientific committee).
Registration and fees
Registration fees are 200 euros. Only authors or coauthors can apply for registration. Some PhD students or early career researchers may benefit from free registration upon request.

ORGANISATION