BOOKS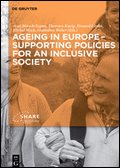 Berlin : Degruyter, 2015/09
SHARE is an international survey designed to answer the societal challenges that face us due to rapid population ageing. How do we Europeans age? How will we do economically, socially and healthwise? How are these domains interrelated? The authors of this multidisciplinary book have taken a further big step towards answering these questions based on the recent SHARE data in order to support policies for an inclusive society.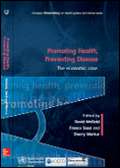 McDaid D. / éd., Sassi F. / éd., Merkur S. / éd.
Maidenhead : Open University Press, 2015
Cet ouvrage envisage la promotion de la santé et la prévention des maladies chroniques sous l'angle de l'économie, et énonce les raisons d'évaluer la pertinence des interventions sur le plan économique. Il passe méthodiquement en revue les bases factuelles à l'appui de toute une série d'interventions de santé publique, en envisageant non seulement leur efficacité pour l'amélioration de la santé de la population, mais aussi le coût de leur mise en oeuvre, leurs effets sur les dépenses de santé et leurs répercussions d'ordre économique au sens plus large. Une perspective économique ne se limite pas à un calcul des coûts liés à la mauvaise santé. Il s'agit de comprendre comment les incitants économiques peuvent pousser la population à choisir un style de vie sain. Cet ouvrage fournit des outils pour l'élaboration de stratégies efficaces et efficientes et aborde le thème des compromis à faire entre les différents objectifs d'une amélioration de la santé publique tout en ayant conscience de la nécessité de lutter contre les inégalités entre individus et populations quant aux résultats obtenus dans le domaine sanitaire. Cet ouvrage :illustre de manière concrète les méthodes et les mesures des coûts et des résultats employées dans l'évaluation des interventions ; couvre les facteurs de risque précis, dont le tabagisme, l'alcool, les habitudes alimentaires peu saines, l'inactivité physique, la mauvaise santé mentale et les facteurs environnementaux nocifs ; envisage des thématiques transversales, dont les principaux problèmes rencontrés dans la mise en oeuvre, les inégalités dans le domaine sanitaire et les bienfaits des interventions menées aux premiers stades de la vie (résumé des éditeurs).

Working papers are replaced by Watch on Health Economics