BOOKS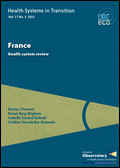 Chevreul K., Berg Brigham K., Durand-Zaleski I. et al.
Copenhague : Bureau régional de l'Europe, 2015. Organisation Mondiale de la Santé. (OMS).
The French population has a good level of health, with the second highest life expectancy in the world for women. The French state has a strong role in the health insurance system, which offers a high level of choice of providers. While the French population is largely satisfied with the health system, the overall state of health in France is mixed, as described within this review. Health inequalities across socioeconomic and geographical groups are much larger in France than in most other European countries, resulting not only from risk factors but also from financial and geographical inequities in access to care. The rising cost of health care remains a challenge for the health system, with public financing of health care expenditure among the highest in Europe. While the latest health reforms aim to address these challenges, long-term care reform efforts have thus far failed to identify a sustainable financing mechanism to meet this large and growing need. The HiT was launched in Paris in collaboration with the French National Union of Health Insurance Funds (UNCAM). HiT health system reviews are country-based reports that provide a detailed description of a country's health system and of reform and policy initiatives in progress or under development. More up-to-date information on many countries can be found on our Health Systems and Policy Monitor (HSPM).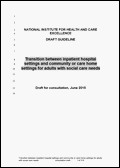 National Institute for Clinical Excellence. (NICE). Londres. GBR
Londres : NICE, 2015/12
This guideline covers the transition between inpatient hospital settings and community or care homes for adults with social care needs. It aims to improve people's experience of admission to, and discharge from, hospital by better coordination of health and social care services.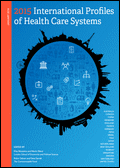 Commonwealth Fund. New York NY. USA
New York : The Commonwealth Fund, 2016/01
This publication presents overviews of the health care systems of Australia, Canada, China, Denmark, England, France, Germany, India, Israel, Italy, Japan, the Netherlands, New Zealand, Norway, Singapore, Sweden, Switzerland, and the United States. Each overview covers health insurance, public and private financing, health system organization and governance, health care quality and coordination, disparities, efficiency and integration, use of information technology and evidence-based practice, cost containment, and recent reforms and innovations. In addition, summary tables provide data on a number of key health system characteristics and performance indicators, including overall health care spending, hospital spending and utilization, health care access, patient safety, care coordination, chronic care management, disease prevention, capacity for quality improvement, and public views.
Working papers are replaced by Watch on Health Economics