BOOKS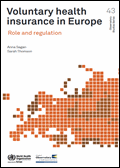 Copenhague : Bureau régional de l'Europe, 2016
If public resources were unlimited, there would be no gaps in health coverage and no real need for voluntary health insurance (VHI). Most health systems face fiscal constraints, however, and VHI is often seen as a way to address these pressures. This study draws from the experiences of 34 countries to assess VHI's contribution to health spending and to understand its role in Europe and in relation to publicly financed coverage. It looks at who sells VHI, who purchases it and why. It also reviews public policy on VHI at the national and European Union (EU) levels and the related national policy debates. The analysis shows that, while the markets for VHI vary considerably in size, operation and regulation, the vast majority are small. The substantial markets tend to be the oldest, to have a tradition of non-profit insurers and to be the most heavily regulated to ensure VHI policies are accessible and affordable. The study also suggests that VHI is normally a better way of meeting the population's health needs than out-of-pocket payments, although there are notable exceptions. VHI can contribute to financial protection, especially where it plays a substitutive and complementary role covering co-payments. Nevertheless, it is a complex, challenging and highly context-specific policy instrument that may undermine other health-system goals, including equitable access, efficiency, transparency and accountability, even where markets are well regulated. Policymakers should therefore exercise real caution before expanding VHI to fill coverage gaps. This report is accompanied by a set of country profiles. The study draws on contributions from national experts from the countries in the EU and the European Free Trade Association, and other countries in the WHO European Region.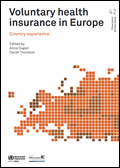 Copenhague : Bureau régional de l'Europe, 2016

No two markets for voluntary health insurance (VHI) are identical. All differ in some way because they are heavily shaped by the nature and performance of publicly financed health systems and by the contexts in which they have evolved. This volume contains short, structured profiles of markets for VHI in 34 countries in the WHO European Region. These are drawn from European Union Member States plus Armenia, Iceland, Georgia, Norway, the Russian Federation, Switzerland and Ukraine. The book is aimed at policy-makers and researchers interested in knowing more about how VHI works in practice in a wide range of contexts. Each profile, written by one or more local experts, identifies gaps in publicly financed health coverage, describes the role VHI plays, outlines how the market for VHI operates, summarizes public policy towards VHI, including major developments over time, and highlights national debates and challenges. The book is part of a study on VHI in Europe prepared jointly by the European Observatory on Health Systems and Policies and the WHO Regional Office for Europe. A companion volume, "An introduction to voluntary health insurance in Europe", provides an analytical overview of VHI markets across the 34 countries.
The Conference Board of Canada. Ottawa ON. CAN
Ottawa : The Conference Board of Canada, 2016/05

Despite having a health care system that is predominately publicly funded, many Canadians face a significant financial burden when accessing health services that have to be paid for out-of-pocket or that are only partly covered by private insurance. This research describes Canadians' use of fiscal incentives related to health services and sheds light on fiscal tools that could be used to make access to private health services more equitable across income groups. As well, it assesses selected fiscal measures in health care and their role in improving access to uninsured or underinsured health care services, and it discusses the potential impact of implementing a healthrelated tax deduction in Canada.
SITES
International Economics database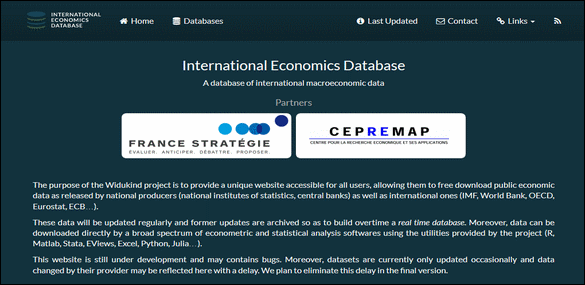 Presentation
Le projet Widukind vise à créer une plateforme libre de données économiques à l'aide de données recueillies sur les sites des instituts statistiques nationaux et internationaux. La valeur ajoutée première est une base unique de données économiques avec une couverture large et systématique (aujourd'hui plus de 65 millions de séries). Le site présente différents systèmes de recherche en fonction des besoins de l'utilisateur parmi les données de l'INSEE, d'Eurostat, de la BCE, du FMI, de la Banque Mondiale, de la Réserve Fédérale (US), de la BRI, de l'ESRI (Japon), de l'OCDE et du BEA (US).
Working papers are replaced by Watch on Health Economics