CHART OF JUNE 2008
Proportion of persons without supplementary health coverage by income per consumption unit - France 2006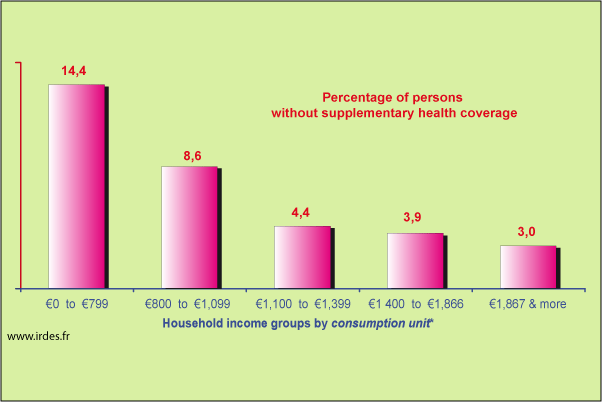 * Income per consumption unit: The income per consumption unit (CU) allows to compare the living standards of households of different size and composition through an equivalence scale.
We use the OECD scale with following weights:
1 CU for the first adult of the household
0.5 CU for the other persons aged 14 or older
0.3 CU for the children aged under 14.
Source: Data issued from Issues in health economics n° 132, May 2008 : Complementary Health Insurance in France in 2006: Access is Still Unequal Results of the 2006 French Health, Health Care and Insurance Survey (ESPS 2006)
All the charts...
Our newsletter
Subscribe
Contact
Legal information
To order
Sitemap
Useful links
Access
News
Latest publications
RSS

June 3rd, 2008