BOOKS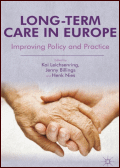 Leichsenring K. / éd., Billings J. / éd., Nies H. / éd.
Basingstoke : Palgrave Macmillan : 2013 : 19 p.+ 389 p.

This book challenges the prevailing discourse centred on the problems of demographic change and long-term care provision for older people by focusing on solutions emerging from progression and improvement in policy and practice. Building on ample research in 13 European countries, evidence is provided for how the construction of long-term care systems can be taken forward by practitioners, policy-makers and stakeholder organizations. By focusing on prevention and rehabilitation, the support of informal care, the enhancement of quality development as well as by decent governance and financing mechanisms for long-term care, stakeholders may learn from European experiences and solutions on the local, regional and national levels.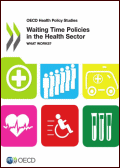 Siciliani L. / éd., Borowitz M. / éd., Moran V. / éd.
Paris : OCDE : 2013 : 323 p.

The book first provides a framework to understand the role of waiting times in health systems. It then discusses variation and best practice in defining and measuring waiting times across OECD countries. The book summarises and discusses the effectiveness of the most common policies to address long waiting times in 13 OECD countries; It also provides detailed country case studies respectively in Australia, Canada, Denmark, Finland, Ireland, Italy, Netherlands, New Zealand, Norway, Portugal, Spain, Sweden, and the United Kingdom. It describes current policy developments and assesses the effectiveness of policies in the last ten years.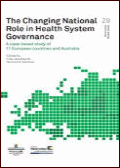 Jakubowski E. / éd., Saltman R.B. / éd.
Copenhague : OMS Bureau régional de l'Europe : 2013 : xxii + 74 p.

Cette étude, réalisée dans 12 pays, fait le survol des changements récents intervenus dans le rôle des autorités publiques nationales par rapport à la gouvernance des systèmes de santé. Elle met l'accent à la fois sur les efforts visant à reconfigurer les responsabilités en matière de politique, de réglementation et de gestion de la santé, sur les priorités politiques qui en résultent, et sur l'impact initial de ces efforts. Cette redistribution des responsabilités ne va pas souvent dans le même sens : un certain nombre de pays ont centralisé certains aspects du processus décisionnel ou de la réglementation, mais en ont décentralisé d'autres. Cette étude passe en revue les grandes tendances, sur la base des cas nationaux, et évalue les évolutions possibles.

WORKING PAPERS
Working papers are replaced by Watch on Health Economics
More...
Our newsletter
Subscribe
Contact
Legal information
To order
Sitemap
Useful links
Access
News
Latest publications
RSS

May 29th, 2013