BOOKS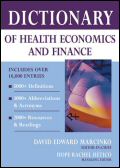 Dictionary of health economics and finance.
Dictionnaire de l'économie de la santé et de la finance.
Marcinko D.E., Hetico H.R.
New York : Springer Verlag : 2007 : 436 p.
Medical economics and finance is an integral component of the health care industrial complex. Its language is a diverse and broad-based concept covering many other industries: accounting, insurance, mathematics and statistics, public health, provider recruitment and retention, Medicare, health policy, forecasting, aging and long-term care, are all commingled arenas.... The Dictionary of Health Economics and Finance will be an essential tool for doctors, nurses and clinicians, benefits managers, executives and health care administrators, as well as graduate students and patients with more than 5000 definitions, 3000 abbreviations and acronyms, and a 2000 item oeuvre of resources, readings, and nomenclature derivatives it covers the financial and economics language of every health care industry sector.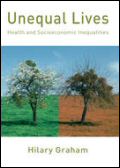 Unequal lives : health and socioeconomic inequalities.
Des vies inégales : inégalités de santé et inégalités socio-économiques.
Graham H.
Berkshire : Open University Press : 2007 : 20-215 p.
Unequal Lives provides an evidence-based introduction to social and health inequalities. It brings together research from social epidemiology, sociology and social policy to guide the reader to an understanding of why people's lives and people's health remain so unequal, even in rich societies where there is more than enough for all. The book introduces the non-specialist to key concepts like health inequalities and health inequities, social class and socioeconomic position, social determinants and life course, as well as to the key indicators of health and socioeconomic position. It provides a wealth of evidence on socioeconomic inequalities in health at both national and global level, and explores how these inequalities persist as countries industrialise, patterns of employment and family life change, and chronic diseases emerge as the big killers. Consideration is given to policy and its impact on inequalities within the UK, Europe and beyond and an assessment made of health inequalities throughout the life.
WORKING PAPERS
Health Status
Rechercher l'information privée en santé perçue.
Banks J., Crossley T., Goshev S.
Hamilton : McMaster University : 2007/08 : 39 p.
The paper investigates whether self-assessed health status (SAH) contains information about future mortality and morbidity, beyond the information that is contained in standard "observable" characteristics of individuals (including pre-existing diagnosed medical conditions). Using a ten-year span of the Canadian National Population Health Survey, we find that SAH does contain private information for future mortality and morbidity. Moreover, we find some evidence that the extra information in SAH is greater at older ages. Many developed countries are experiencing a major shift from defined benefit (DB) to defined contribution (DC) pension arrangements. One consequence of this shift is an effective delay in the age at which workers commit to an annuity. Our results therefore suggest that adverse selection problems in annuity markets could be more severe at older ages, and therefore, that the DB to DC shift may expose workers to greater longevity risk. This is an aspect of the DB to DC shift that has received little attention.
Etat de santé, soins et inégalité : Canada contre Etats-Unis
O'Neill J.E., O'Neill D.M.
Cambridge : NBER : 2007/09 : 42 p.
Does Canada's publicly funded, single payer health care system deliver better health outcomes and distribute health resources more equitably than the multi-payer heavily private U.S. system? We show that the efficacy of health care systems cannot be usefully evaluated by comparisons of infant mortality and life expectancy. We analyze several alternative measures of health status using JCUSH (The Joint Canada/U.S. Survey of Health) and other surveys. We find a somewhat higher incidence of chronic health conditions in the U.S. than in Canada but somewhat greater U.S. access to treatment for these conditions. Moreover, a significantly higher percentage of U.S. women and men are screened for major forms of cancer. Although health status, measured in various ways is similar in both countries, mortality/incidence ratios for various cancers tend to be higher in Canada. The need to ration resources in Canada, where care is delivered "free", ultimately leads to long waits. In the U.S., costs are more often a source of unmet needs. We also find that Canada has no more abolished the tendency for health status to improve with income than have other countries. Indeed, the health-income gradient is slightly steeper in Canada than it is in the U.S.
Pharmaceuticals
La régulation nationale des marché pharmaceutiques et le rythme de lancement des nouveaux médicaments en Europe.
Heuer A., Mejer M., Neuhaus J.
Kiel : Kiel Institute for the World Economy : 2007 : 18 p.
We analyze the impact of national pharmaceutical regulation on the launch delay of new chemical entities approved by the EMEA's centralized procedure. We find that direct price control regimes have a significantly negative impact on the launch timing. These results cannot be found when investigating the impact of indirect price controls. Our results show that Germany (65%) has the highest probability of experiencing an early launch, while it is the lowest in southern European countries (18% for Portugal and 19% for Greece). This difference accrues from both price regulation and market attractiveness, since southern European countries generally have lower prices. Due to the possibilities for parallel trade within the EU, pharmaceutical companies, by acting strategically, may further increase launch delays.
Gains d'espérance de vie grâce aux médicaments : évaluation critique de la littérature.
Grootendorst P., Pierrard E., Sim M.
Hamilton : SEDAP : 2007/06 : 24 p.
Several studies suggest that, on the basis of life expectancy (LE) regressions, new pharmaceutical drugs are responsible for some of the marked gains in LE observed over the last 50 years. We critically appraise these studies. We point out several modeling issues, including disentangling the contribution of new drugs from advances in disease management, changes in the distribution of health care and other confounding factors. We suggest that the studies estimates of pharmaceutical productivity are implausibly high. Some of the models have very large forecast errors. Finally, the models that we replicated were found to be sensitive to seemingly innocuous changes in specification. We conclude that it is difficult to estimate the bio-medical determinants of LE using aggregate data. Analyses using individual level data or perhaps disease specific data will likely produce more compelling results.
Effets bénéfiques de la couverture des dépenses pharmaceutiques.
Lakdawalla D., Sood N.
Cambridge : NBER : 2007/10 : 35 p.
Rewarding inventors with inefficient monopoly power has long been regarded as the price of encouraging innovation. Public prescription drug insurance escapes that trade-off and achieves an elusive goal: lowering static deadweight loss, while simultaneously encouraging dynamic investments in innovation. As a result of this feature, the public provision of drug insurance can be welfare-improving, even for risk-neutral and purely self-interested consumers. In spite of its relatively low benefit levels, the Medicare Part D benefit generate $3.5 billion of annual static deadweight loss reduction, and at least $2.8 billion of annual value from extra innovation. These two components alone cover 87% of the social cost of publicly financing the benefit. The analysis of static and dynamic efficiency also has implications for policies complementary to a drug benefit: in the context of public monopsony power, some degree of price-negotiation by the government is always strictly welfare-improving, but this should often be coupled with extensions in patent length.
Professionnal practices
Les professionnels travaillant dans les organisations de santé : les influences structurelles des patients dans les hôpitaux français, canadiens et américains.
Bourgeault Y.L., Sainsaulieu I., Khokher P., Hirschkorn K.
Hamilton : SEDAP : 2007/06 : 19 p.
Although there are several studies of the impact of employment of health professionals in large bureaucratic organizations, there has been significantly less research focused on the structural influence of patients on this relationship. In this paper we present comparative qualitative data gathered on the work experiences of health care professionals in Canadian, U.S. and French hospitals. We elaborate specifically on a typology of structural influence of clients on health care professionals work in hospitals in terms of open and closed units.
Traitement personnalisé versus traitement selon les normes : choix des médecins en fonction de leurs tendances comportementales.
Franck R.G., Zeckhauser R.J.
Hamilton : SEDAP : 2007/06 : 19 p.
To customize treatments to individual patients entails costs of coordination and cognition. Thus, providers sometimes choose treatments based on norms for broad classes of patients. We develop behavioral hypotheses explaining when and why doctors customize to the particular patient, and when instead they employ "ready-to-wear" treatments. Our empirical studies examining length of office visits and physician prescribing behavior find evidence of norm-following behavior. Some such behavior, from our studies and from the literature, proves sensible; but other behavior seems far from optimal.
Social protection
Le système de protection sociale français aux prises avec les réformes (1975-2007).
Barbier J.C.
Paris : Centre d'Economie de la Sorbonne : 2007 : 22 p.
The French system of social protection, contrary to many simplistic accounts, has undergone quite a great number of reforms in the past 30 years. This were very differentiated across sectors but also appear as linked to the business cycle. The French system, in its present developments does not manifest a too simplistic "path-dependency", because of its hybrid character: it is not easy to insert it into the traditional tripartition of welfare regimes, and, precisely because of this hybrid nature, the current developments can be explained in terms of the "imprint" of past history, which has perhaps always been hybrid. This text is a follow-up to the book written with Bruno Théret, Le nouveau système français de protection sociale (editions la Découverte).
L'influence des couvertures maladie complémentaires sur le comportement de "switching" : à partir de données suisses.
Dormont B., Geoffard P.Y., Lamiraud K.
Lausanne : 2007/08 : 30 p.
This paper focuses on the switching behaviour of sickness fund enrollees in the Swiss health insurance system. Even though the new Federal Law on Social Health Insurance (LAMal) was implemented in 1996 to promote competition among health insurers, there still remains large premium variations within cantons. This indicates that competition has not been able so far to lead to a single price, and reveals some inertia among consumers who seem reluctant to switch to less expensive funds. We investigate one possible barrier to switching behaviour, namely the influence of the supplementary insurance on the choice for basic insurance plan in Switzerland, which has not been studied so far. Our aim is to analyse the two decisions (choice of health plan, subscription to supplementary insurance contracts). We use the data of the OFAS survey conducted in 2000 on health plan choice and import some additional data on the sickness funds (number of enrollees, premiums). The decision to switch is estimated by both logit and a fixed-effects logit models; two main explanatory variables are studied: premiums (for basic insurance contracts) and supplementary insurance. The results suggest that holding a supplementary insurance contract substantially decreases the propensity to switch. The switching decision is positively influenced by the expected gain of switching, measured by the premium differential. The expected gain of switching is higher for switchers with no supplementary insurance (CHF 19.44) than for switchers with supplementary insurance (CHF 13.06). The income level has a direct positive influence on the propensity to buy a supplementary insurance. This finding suggests that the purchase of supplementary insurance is influenced, not only by risk aversion, but also by the willingness to pay for the goods covered by the supplementary insurance, which would be higher for rich people. Bad health has a negative influence on the subscription to a supplementary contract, but is no longer significant when the income is introduced into the specification. All the information about health is captured by the income level, a low income being strongly correlated with a bad health status. Income and a supplementary insurance contract are observable by the insurance company, and can be used as tools for selection.
Quality of care
Projet Indicateurs de la qualité des soins de santé. Rapport sur la collecte 2006 de données réactualisées.
Garcia Armesto S., Gil Lapetra M.L., Wei F., Kelley E.
Paris : OCDE : 2007 : 157 p.
This report is an update to the OECD Health Working Paper No. 22, Health Care Quality Indicators Project: Initial Indicators Report that was based on data collected between 2003 and 2005 and released in 20064. That report presented the OECD's initial work on developing a set of health care quality indicators that could be used to raise questions about differences in quality of care across countries. The 2006 report covered 21 "initial indicators" with data provided by 24 countries. It identified 17 of these indicators as being fit for international comparisons of which 4 were identified as needing further work5. Following the release of that report in March 2006, the OECD undertook a second round of data collection on the initial indicator set and also gathered data for the first time on new indicators in a questionnaire sent to participating HCQI countries. This paper reports on the results of that second round of data collection. Data is presented here on an augmented indicator set considered fit for the purpose of making international comparisons on quality of health care. The data is comprised of 19 indicators (17 initial indicators plus 2 new ones). The paper also presents the data provided on 7 other indicators that are not yet considered fit for international comparison. In this round of data collection, data were reported by 32 countries.
Long term care
Soins de longue durée pour les personnes âgées : l'avenir des services sociaux d'intérêt général dans l'Union européenne.
Manfred H.
Bruxelles : Commission Européenne : 2007 : 48 p.
Long-term care brings together a range of services for people who depend on ongoing help for an extended period of time with the activities of daily living, due to chronic conditions of physical or mental disability. These services can include help with everyday activities of housekeeping, transport, self-management and social activities but have usually a focus on more intensive personal care such as bathing, dressing, getting in and out of bed or chair, moving around and using the bathroom.
Soins de longue durée pour les personnes âgées : tendances en matière de dépenses et projections.
Madge A.
Belconnen : Media and Publications Productivity Commission : 2000/10 : 102 p.
Australia's population structure is ageing and this will continue for the foreseeable future. In 1997, 'the aged' - those aged 65 years or more - accounted for 12 per cent of the population, a figure expected to increase to 22 per cent by 2031. An ageing population raises significant social policy issues, not least in relation to health and long-term care of the aged. Long-term aged care in this context refers principally to residential care (nursing homes and hostels) and community services delivered in, or to, the homes of aged persons. At present, Australia devotes over 1 per cent of its GDP - about $6 billion in current terms - to long-term aged care. The primary focus of this paper is on how these figures might change in the future because of demographic change and other factors. The paper also analyses past government expenditure trends in this area.