BOOKS OF THE MONTH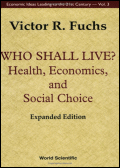 Fuchs V.R.
New Jersey : World Scientific Publishing : 2011 : 30 p. + 345 p.
Dans cet ouvrage de référence, le professeur américain Victor Fuchs de l'Université de Stanford dresse un état des lieux des forces et des limites de l'économie de la santé, et à partir de sa propre connaissance des institutions sanitaires, il tente d'aider les lecteurs à comprendre les problèmes que rencontrent actuellement les nations à allouer des ressources sanitaires de façon efficiente et équitable. Le texte original de ce livre date de 1974. L'édition de 1998 était augmentée de six contributions complémentaires, qui traitaient du système national d'assurance maladie, de la pauvreté et de la santé aux Etats-Unis. Cette nouvelle édition constitue une mise à jour de l'ensemble de ces problématiques. Elle introduit de nouvelles réflexions, notamment sur l'économie du vieillissement.
SITES OF THE MONTH
Council of European Social Science Data Archives (CESSDA)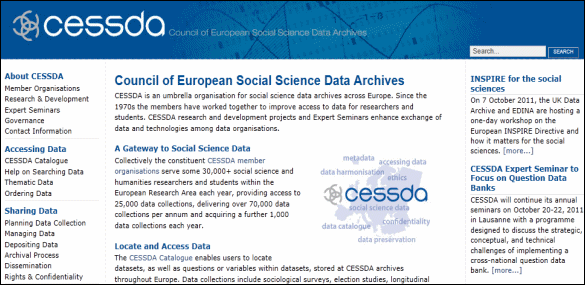 Réseau Quetelet : Réseau français des centres de données pour les sciences sociales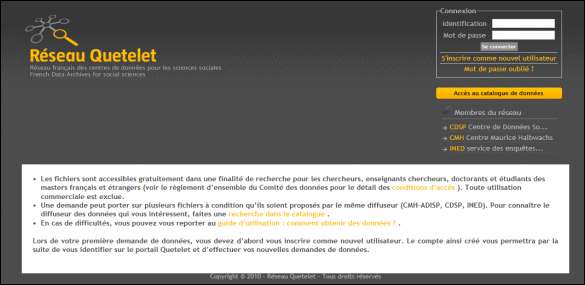 WORKING PAPERS
Hospital
Doane M.J., Froeb L., Van Horn L.
Rochester : Social Science Reseach Network : 2011 : 32 p.
Health plans create competition among hospitals by threatening to "steer" patients to preferred facilities. Mergers can reduce this competition and economists have begun using travel cost demand models to estimate their effects. In this paper, we document an anomaly in estimation: for any plausible estimate of the opportunity cost of time, the price of hospital service is several orders of magnitude larger than the estimated value that patients place on the service. This anomaly raises questions about how well travel cost models measure demand for medical care, competition among hospitals, and the increase in bargaining power created by merger.
Cookson R, Laudicella M., Li Donni P.
York : University of York : 2011/10 : 24 p.
Increasing evidence shows that hospital competition under fixed prices can improve quality and reduce cost. Concerns remain, however, that competition may undermine socio-economic equity in the utilisation of care. We test this hypothesis in the context of the pro-competition reforms of the English National Health Service progressively introduced from 2004 to 2006. We use a panel of32,482 English small areas followed from 2003 to 2008 and a difference in differences approach. The effect of competition on equity is identified by the interaction between market structure, small area income deprivation and year. We find a negative association between market dispersion and elective admissions in deprived areas. The effect of pro-competition reform was to reduce this negative association slightly, suggesting that competition did not undermine equity.
Gutacker N., Bojke C., Daidone S.
York : University of York : 2011/10 : 21 p.
Accounting for variation in the quality of care is a major challenge for the assessment of hospital cost performance. Because data on patients' health improvement are generally not available, existing studies have resorted to inherently incomplete outcome measures such as mortality or re-admission rates. This opens up the possibility that providers of high quality care are falsely deemed inefficient and vice versa. This study makes use of a novel dataset of routinely collected patient-reported outcomes measures (PROMs) to i) assess the degree to which cost variation is associated with variation in patients' health gain and ii) explore how far judgement about hospital cost performance changes when health outcomes are accounted for. We use multilevel modelling to address the clustering of patients in providers and isolate unexplained cost variation. Our results provide some evidence of a U-shaped relationship between risk-adjusted costs and outcomes for hip replacement surgery. For the other three investigated procedures, the estimated relationship is sensitive to the choice of PROM instrument. We do not observe substantial changes in estimates of cost performance when outcomes are explicitly accounted for.
King's Fund Institute. Londres.
Londres : King's Fund Institute : 2011/10 : 20 p.
Many NHS hospitals will struggle to deliver productivity improvements essential to maintaining quality and avoiding significant cuts to services, according to our latest quarterly monitoring report. This is the third quarterly monitoring report produced by the Fund as we aim to provide a regular update on how the NHS is coping as it grapples with the evolving reform agenda as well as the more significant challenge of making radical improvements in productivity. It complements our NHS health check prezi and is a continuation of work that we have done historically to assess, analyse and report on the performance of the NHS.
Social Health Inequalities
Spinakis A., Anastasiou G., Panousis V.
Luxembourg : European commission : 2011 : 198 p.
Monitoring of inequalities in health is an important public health task. Interest in health inequalities among EU countries and their regions as well as among the various social clusters in the EU population is growing. The search for the best appropriate 'summary measure' of health inequality that can be observed individually or in terms of groups of individuals, is a task that occupies a lot the researchers involved in the fields of inequality research. Lately in the EU, it has been recognized that a more focused effort is required. It is more natural to suggest and construct methodologies or indices that will be suitable for assessing trends in terms of mortality, morbidity and also self-perceived health. The selection of an appropriate indicator or an appropriate measurement methodology for health inequality across the EU-27 countries is a demanding task. Each available indicator has advantages and disadvantages. Simple indicators are usually comprehensive but may not have some specific desirable characteristics. Other indicators are more technical and difficult to understand, apply and/or interpret, but can assist more in explaining significant components of the concept 'health inequality. Complex indicators can also be very useful in the decomposition of inequality. Based on the above, it is reasonable to state that one main goal in the study of health inequalities is to : propose appropriate measurement methods in the form of indicators that 'estimate and 'capture' the exact level of inequality in a population (here the EU population). The other very important goal of this study is to monitor the variation of health inequalities in all levels of analysis (e.g. social groups, regions, individuals) through time. Thus, perform a trend analysis. The main objective was to contribute in the area of 'Monitoring Health Inequalities in the EU', by combining the best practices in health inequalities measurement with the most reliable data that can be used to calculate these measures. The specific tasks of the project were: - the review and analysis of the existing work done in the measurement of health inequalities in the EU. - the review and analysis of the existing and planned data sets available across the EU, with an assessment of their suitability for the purposes of the analysis.
Fleurbaey M., Schokkaert E.
Louvain la Neuve : Center for Operations Research and Econometrics : 2011 : 1206 p.
This paper discusses the conceptual foundations of measuring (in)equity in health and health care. After an overview of the recent developments in the measurement of socio-economic inequalities and in racial disparities, its shows how these partial approaches can be seen as special cases of the more general social choice approach to fair allocation and equality of opportunity. We suggest that this latter framework offers many new analytical possibilities and is sufficiently rich to accommodate various ethical views. We emphasize that horizontal and vertical equity are intricately linked to each other. We then argue that a focus on overall well-being is necessary to put the partial results on health (care) inequity into a broader perspective and we discuss the pros and cons of various methods to evaluate the joint distribution of health and income: multidimensional inequality indices, dominance approaches, the use of happiness measures and finally the concept of equivalent income. Throughout the chapter the theoretical analysis is complemented with an overview of recent empirical results.
Scheil-Adlung X., Kuhl C.
Genève : Organisation Internationale du Travail : 2011 : 39 p.
Europe as a whole is often perceived as a group of wealthy countries where inclusive social protection systems provide comprehensive protection for the most vulnerable and health care at highest standards is easily accessible for everybody. Thus, persisting gaps in social health protection coverage and inequities in access to health services experienced by vulnerable groups receive only little attention and are rarely adequately analysed with regard to specific aspects such as gender, migration, or issues related to ethnic groups. As a result, in times of financial constraints, policy discussions often turn around to cut back social protection expenditures without sufficiently investigating the impacts on those in need. Against this background, this paper highlights issues that contribute to persisting inequalities in access to health care of vulnerable groups in the broader European region, including countries of the European Union (EU), the Commonwealth of Independent States (CIS), Central and Eastern Europe (CEE), and selected countries of Central Asia. We focus on key determinants of vulnerability, primarily labour market impacts such as income, employment, and related gaps in access to social protection, and to social health protection in particular. Moreover, we concentrate on stratification of vulnerability looking at specific population groups, including women, the elderly, migrants, and ethnic groups, mainly Roma, who are often disadvantaged in regard with determinants of vulnerability as focused on here (Figure 1). Special attention is also given to rural and urban inequities. First, we present the main characteristics of social health protection systems in countries of the European region regarding financing, organization, and benefit arrangements. We then analyze remaining gaps in social health protection in terms of legal coverage, financial protection and geographic availability of health services, and the impact on effective access for vulnerable groups.
Cookson R., Laudicella M., Li Donni P.
York : University of York : 2011/10 : 21 p.
This study developed a method for measuring change in socio-economic equity in health care utilisation using small area level administrative data. Our method provides more detailed information on utilisation than survey data but only examines socio-economic differences between neighbourhoods rather than individuals. The context was the English NHS from 2001 to 2008, a period of accelerated expenditure growth and pro-competition reform. Hospital records for all adults receiving non-emergency hospital care in the English NHS from 2001 to 2008 were aggregated to 32,482 English small areas with mean population about 1,500 and combined with other small area administrative data. Regression models of utilisation were used to examine year-on-year change in the small area association between deprivation and utilisation, allowing for population size, age-sex composition and disease prevalence including (from 2003-8) cancer, chronic kidney disease, coronary heart disease, diabetes, epilepsy, hypertension, hypothyroidism, stroke, transient ischaemic attack and (from 2006-8) atrial fibrillation, chronic obstructive pulmonary disease, obesity and heart failure. There was no substantial change in small area associations between deprivation and utilisation for outpatient visits, hip replacement, senile cataract, gastroscopy or coronary revascularisation, though overall non-emergency inpatient admissions rose slightly faster in more deprived areas than elsewhere. Associations between deprivation and disease prevalence changed little during the period, indicating that observed need did not grow faster in more deprived areas than elsewhere. We conclude that there was no substantial deterioration in socio-economic equity in health care utilisation in the English NHS from 2001 to 2008, and if anything, there may have been a slight improvement.
Primary health care
Health Council of Canada. Toronto
Toronto : Health Council of Canada : 2011/09 : 7 p.
Only 48% of Canadians feel involved and are actively participating in their health care – which affects how they feel about their health. In this report the Health Council of Canada takes a look at why less than half of Canadians are taking a more active role in maintaining their health. The report shows that engaged patients are happier with their care and more likely to participate in disease prevention, screenings and health promoting activities. The biggest barrier to patient engagement is time, and those patients who had experiences with long waits or who felt they didn't have enough time with their doctor did not feel as engaged in their care. Among 10 other countries who take part in the survey, Canada falls in the middle when it pertains to patient engagement. The countries ranking highest – New Zealand, Australia and Switzerland – are the same countries in a past Commonwealth survey (2010) who earned high ratings from citizens on access, affordability, timeliness and coordination of care.
Collège des Médecins de Famille au Canada. (CFPC). Mississauga.
Mississauga : Collège des Médecins de Famille au Canada : 2011 : 61 p.
The history of health care in Canada is linked to the vital role played by family practice and our nation's family physicians. As we deliberate the future of our health care system it is essential that we contemplate the place that will be assumed by family physicians and their practices. The vision of family practices serving as Patients' Medical Homes is intended for the consideration of all who are concerned about the health of Canadians and the health care provided for them. This includes not only family physicians, nurses, and the health professionals and staff who work with them in their practices but also a broad range of other stakeholders in governments, medical schools, and other health care organizations whose responsibilities and commitments intersect with those delivering family practice services. Most important, this vision is intended for the people of Canada, over 30 million of whom are currently cared for by family physicians in urban and rural family practices throughout the nation, as well as the four to five million who do not yet have family physicians. In October 2009, the College of Family Physicians of Canada (CFPC) presented its discussion paper Patient-Centred Primary Care in Canada: Bring it on Home.3 It described the pillars of a model of family practice focused on meeting patient needs. Feedback from a broad cross-section of stakeholders including family physicians, other health professionals and their associations, governments, and the public provided important perspectives that are now incorporated into this vision paper describing family practices throughout Canada serving as Patients' Medical Homes.
Birrell B.
Victoria : Centre for Population and Urban Research : 2011 : 26 p.
It is taken as axiomatic within Australia's health bureaucracy that there is a shortage of General Practitioners (GPs). This view is incorrect. As a result of measures to encourage the employment of International Medical Graduates (IMGs) and to expand the number of domestic medical graduates, Australia is now awash with doctors. This shows up in statistics indicating a sharp improvement in the ratio of doctors to population throughout Australia and record high levels of bulk billing for GP services. There are many consequences for General Practice in Australia and for the doctors seeking to enter the profession. Among these, there are thousands of IMGs in Australia who are finding it difficult to obtain permanent positions in the medical workforce. The report details how and why this situation has been allowed to develop and what needs to be done to correct it.
University of York. Centre for Health Economics. (C.H.E.). York.
York : University of York : 2011/08 : 33 p.
Cette nouvelle étude de l'Université de York examine si une meilleure gestion des soins de santé primaires pour dix maladies chroniques conduit à des réductions des coûts hospitaliers. L'analyse d'une base de données de cinq millions de patients britanniques dans huit mille centres de soins de médecine générale a révélé que seule la performance des soins de santé primaires en matière de maladies cardiaques entraîne une baisse des coûts hospitaliers.
Health care system
Gonenc R., Hofmarcher M.M., Worgotter A.
Paris : OCDE : 2011 : 51 p.
The highly regarded Austrian health system delivers good quality and easily accessible services, but is costly. Its governance and funding structure is highly fragmented and it makes too much use of inpatient care in hospitals. Entry and competition opportunities are de facto limited in most health markets. The system operates therefore on a supply-driven basis, and does not have clear mechanisms to optimize spending on a cost-benefit basis. Population lifestyles are also not supportive of good health outcomes and suffer important differences between social groups, raising risks for the future. This Working Paper reviews Austrian authorities' responses to these challenges, and makes recommendations based on OECD countries' experiences. The suggested priorities are: i) more clearly assigning the performance, financing and spending responsibilities in the system, ii) enforcing a national capacity plan for publicly-funded inpatient and outpatient care, iii) introducing performance-based payment mechanisms in all services, iv) promoting the transition to "integrated care" by better balancing preventive, outpatient, inpatient, rehabilitation and long-term care, v) emphasizing healthier lifestyles and monitoring progress against national health goals (such as targets for obesity and overweight rates), and vi) better clarifying the medium-term fiscal outlook and scenarios of the system. This working paper is a slightly revised and completed version.
Ham C., Smith J., Eastmure E.
Londres : Nuffield Trust : 2011/09 : 61 p.
The Government's NHS reforms place a renewed emphasis on integrated care. Our latest research report and summary – the second from our series on NHS efficiency – explore the key role of commissioners in developing more joined-up and efficient services. Commissioning integrated care in a liberated NHS warns that the new generation of clinical commissioners will need significant support if patients are to benefit from more integrated care.
Commonwealth Fund. New York NY. USA
New York : The Commonwealth Fund : 2011 : 80 p.
The National Scorecard on U.S. Health System Performance, 2011, updates a series of comprehensive assessments of U.S. population health and health care quality, access, efficiency, and equity. It finds substantial improvement on quality-of-care indicators that have been the focus of public reporting and collaborative initiatives. However, U.S. health system performance continues to fall far short of what is attainable, especially given the enormity of public and private resources devoted nationally to health. Across 42 performance indicators, the U.S. achieves a total score of 64 out of a possible 100, when comparing national rates with domestic and international benchmarks. Overall, the U.S. failed to improve relative to these benchmarks, which in many cases rose. Costs were up sharply, access to care deteriorated, health system efficiency remained low, disparities persisted, and health outcomes failed to keep pace with benchmarks. The Affordable Care Act targets many of the gaps identified by the Scorecard.